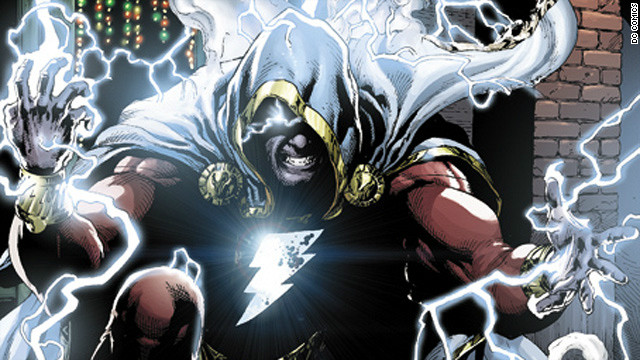 If you've spent any time reading my stories you've probably picked up on the fact that I love superhuman characters. Now, if you spent any time reading my last story, Masters of the Universe, you're probably saying to yourself, "Duh." But it's not simply that I like aliens with powers beyond imagining, which I do. It's that I love the idea of humans rising above their current limitations by any means necessary.
I'm not alone in this, because recently there has been a quadrillion stories revolving around this very idea, and a lot of them are very popular. I mean, what is it about Superhero's that is so fascinating? Or vampires, zombies, mutants, aliens, and robots for that matter? They tap into a part of our imagination where we ask ourselves, "What if?", which is followed quickly by an equally fascinating question, or atleast it is fascinating in my mind.
Why not?
Watch enough vampire movies and you start to take for granted the existence of immortal blood sucking demons from hell. Same goes for zombies. At a certain point you start wondering, "Why hasn't there been a zombie apocalypse? With the direction biological warfare and medicine is headed doesn't it seem like we're overdue for one, right?
Then again, maybe not. It could just be me, and it's probably obvious by now that I have an overactive imagination. But here's the thing, I'm not alone.
I think there's a part of us all that identify with the superhero that gains his powers thanks to a radioactive spider or burst of lightning that just happened to awaken a dormant power hiding in the recesses of his being.
Admit it. You've thought about it. If you had to get struck by lightning, the least it could do is imbue you with some kick ass abilities. Otherwise you're a whole lot of charbroiled for nothing.
Now, I'm not recommending that you run out into the next lightning storm in hopes of becoming the next Flash Gordon, but I'd be lying if I said I never considered it. Perhaps not in recent years, but definitely as a kid.
What got me thinking about this is that the series I'm writing at the moment, Time Snatch, deals a lot with super powered humans. If you read the short story version of Time Snatch that I posted here back in December, you know what I'm talking about, kinda. (Trust that the novel is going to be kicked up ten notches, so don't even bother reading it with your socks on, cause I'm betting their just gonna get knocked off.)
Or not. A guy can hope.
But I digress.
So, I've been thinking about ways that I can make this blog more accessible and help build some visibility in the months leading up to the release of Time Snatch and its sequels. Now, in the process of writing this book, and the Gods and Children books, I've done a lot of reading.
And I mean, a lot of reading.
I'll read pretty much anything, but recently I've read a couple books that I'm particularly interested in sharing with you guys, or at least, my thoughts on said books. So in the next coming days I'm going to do something a bit different than the norm, and bring you good folks some of my thoughts on three books, and a television show, that I have found particularly interesting in the past month.
I'm sure you're asking yourself, "Why do I care what you think about such and such book, just write another story about a guy in a cape and a doomsday device."
Worry not my faithful readers, for I probably will do that, but before I do I want to spend the next month imparting some of my knowledge. So that's kind've what I have planned for the next couple weeks, for those of you that like to plan ahead, feel free to pencil it into your calendar.
Will I have anything deep an insightful to say? Nah, probably not. But hey, maybe I'll turn you onto a new book or author you never would have found otherwise.
Oh, also, thanks again to all of you that took the time to read Masters of the Universe, and double thanks to everybody that left a comment. I got a lot of great feedback, and for those that are wondering, which I know there are a couple cause my email has been lighting up with questions, I plan on writing a five post series next week on my writing process and what exactly that means. Yeah, that's vague, and will probably be a whole lot less cool than aliens sliding through dimensions, but that's what you're gonna get for now.
Also, on a side note, does anybody know why copy/paste from Microsoft Word to WordPress is so fricked up? It's beyond comprehension. Or atleast mine.
P.s. Leave a comment, let me know of any good books, stories, movies, television shows you're loving right now.